Sign and Banner Printing
Sundance Printing can make you a custom, full-color banner up to 5 feet x 20 feet. And in most cases, it only takes two or three days. Vinyl letters are cut and attached to the banner material. There are a handful of standard colors of banner material. We always stock white and yellow, and can order red, black, purple, green, and blue. There are more choices of colors for the lettering, around 30 or so.
You can choose to have text only or add your logo or any other special shape. We make all of our banners with metal grommets and you can hang them inside or outside. Obviously if they're outside they won't last as long as if they're protected from the weather.
Banners are perfect for Business Expos and conferences, they're portable and easy to haul around, but there are so many more ways to use them.
Ways to Use Banners
Put your company name on your building
Put your company name lashed to your truck in front of your business
Temporary or permanent signs:"Grand Opening""Open During Construction""Coming Soon"
"Now Open"
"Youth League Finals"
"Equestrian Event Next Week"
"Art Show Today"
"Clearance Sale"
"Free Doughnuts"
"Color Copies — 99¢"
"This Church Meets at This School"(but maybe yours will be worded better!)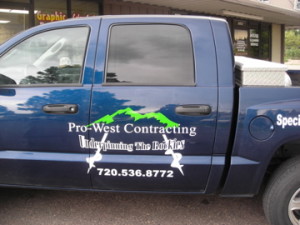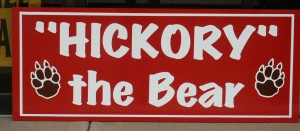 Magnetic Signs
These are the signs you see on cars, trucks or construction equipment. They are easily removed in case you need to go incognito, but I'm guessing you're not going to advertise if you are with the FBI or something. One of our customers has just one truck that he alone drives and he's amazed when people tell him they "see his trucks all over the place." It's a great psychological phenomenon, isn't it?
Again, there are various sizes and many colors of lettering to choose from. We generally suggest having your logo and your name, phone number or website in large letters. If you have the space on your vehicle, you can also add more detail for people to read when they're stopped next to you at an intersection or during construction delays.
Realtor Signs
These are the standing signs you see stuck in people's yards or on a corner pointing the way to a church, for instance. They are made of either al uminum or coroplast, which is like corrugated cardboard, only plastic.
Coroplast is less expensive than aluminum but will only last a year outside. Campaign signs and garage sale signs are generally made of coroplast.
Aluminum will last 7 – 10 years outdoors. Directional signs and contractor signs are generally made of aluminum.  On either coroplast or aluminum you have the same wide choice of lettering colors as in banners or magnetic signs.
But you have your choice of stands. The "H" frame stand is like the "House for Sale" sign planted in a front yard. You'd use an "A" frame stand on the sidewalk in front of your cafe with "Specials Today"
Ways to Use Realtor Signs
Realtor Signs aren't just for realtors. They have many uses wherever there is a sign needed!
"House for Sale"
"Garage Sale"
"Vote for Me" (but use your own name)
"This Church This Way"
"We're Putting on this Roof/Deck/Paint" (again, be sure to use your actual name)
"This Construction Financed by Us"
"Notice of Public Hearing"